CNC Angle Line for Transmission tower
CNC PUNCHING, MARKING & SHEARING LINE FOR ANGLES
Model JNC2020 JNC1412
Functions Punching, marking & shearing
Size of angles (mm) L63X63X4--
L200X200X20 L40X40X3--
L140X140X12
Punching capacity, Max. (mm) 26X20 26X12
Nominal punching force (KN) 1000 600
Marking force (KN) 630/900/1200 6300/900
Shearing force (KN) 1540 900/1700
Max. Length of raw angle (mm) 14000 12000
Max. Length of finished angle (mm) 12000 10000
Punches per side 3 2/3
Groups of marking character 4
Dimensions of character (mm) 14X10X19 (by customers' request)
CNC axes 3
Shearing way Double-blade Double & single blade
Feeding speed of angle (m/min) 40 60
Precision +/-0.5mm
Programming mode Input by keyboard, RS232 & USB interface
Overall dimensions (mm) 32000X7500X2350 25000X7000X2200
Weight (Kg) 24000 16800
Use:
Adopt CNC technology and servo motor feeding, with high efficiency and stable workpiece precision.
Key hydraulic, pneumatic and electric parts all imported.
Easy programming and can directly use the program data generated by lofting software
Computer with English interface, easy operation, and can display the drawing of workpiece.
All marking, punching and shearing in automatic completeness, all finished
Angles can be unloaded by pneumatic overturning device via motor driver so as to lighten the working strength of workers with good advantages than other manufactures.
Advantages:
Only need operator to input the size of workpiece, diameter of holes, stadia and quantity of workpiece when edit program, or use CAD/CAM easy conversion.
The angle line installs supporting & pressing device to meet the requirements of processing angles with bigger bending.
With avoidable shearing functions, so as to process fixed-length angles.
With self-diagnosis failures function.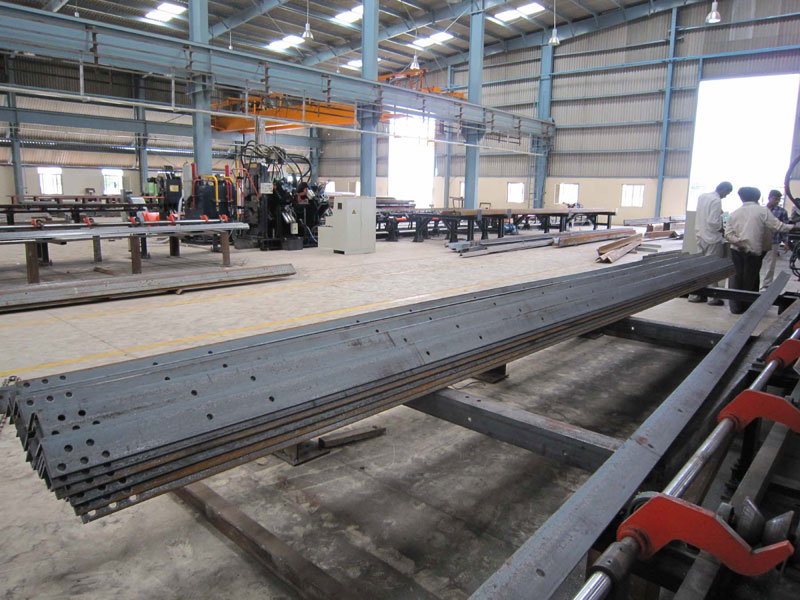 ---
---
Related products
---